🌍 INTERNATIONAL STUDENTS FROM ALL OVER THE WORLD IN AN EXPEDITION TO…
Azores 🇵🇹🇵🇹
💦☘️🌿🌴🌱🌳🌲
Azores Local Expedition – Special experience with a local guide, a deep dive into a different culture
Get ready to see magnificent landscapes, taste mouth-watering meals and practice some exciting outdoor activities. Hiking through scenic landscapes and swimming in natural pools or hot spring baths are some of the main attractions of our trip.
🚌 5 DAYS 
🎟 PRICE: 195€ (80€ reservation) everything included (except the flight from/to Canaries) 115€ Remaining Balance Is Payable In Cash (Euro) On The First Day Of The Tour.
FLIGHTS
To Fly To Ponta Delgada, São Miguel Island In The Azores, You Should Consider Departing From The City Of Porto In Portugal Or From Lisbon, Portugal. There Are Several Airlines Operating Flights On This Route. Here Are Some Options You Might Consider:
TAP Air Portugal ✈️
SATA Air Açores ✈️
Ryanair ✈️
Be Sure To Check Flight Times, Prices And Availability On These Airlines, As They Can Vary Depending On Demand. Also, Check Baggage Policies And Other Important Details Before Booking. Have A Good Trip!
(you can arrive few days before or leave few days later, extra days in Azores are not included in the price but, if you tell us in advance, we can organize your accommodation for a special price and suggest local experiences)
We recommend to check the MULTICITY option in kiwi.com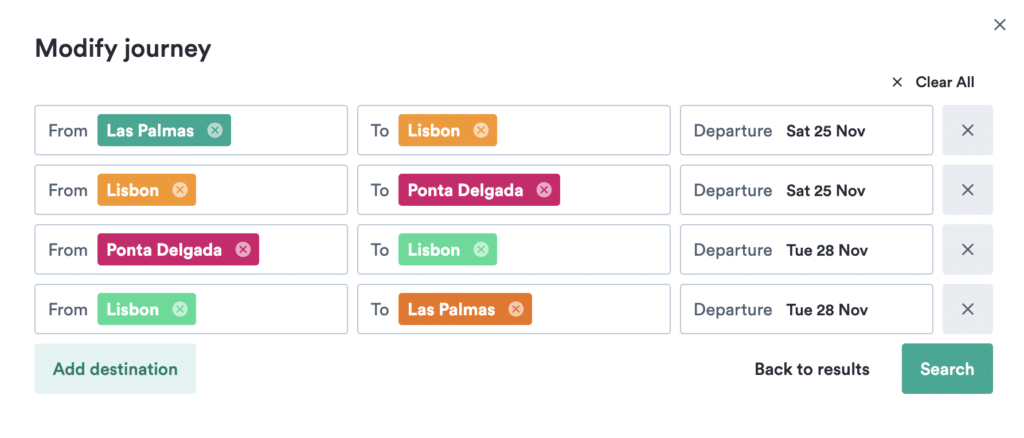 Day #1 (18th) Arrivals
Day #2 (19th)
Day #3 (20th)
Day #4 (21st)
Day #1 (18th) Arrivals
This Day Marks The Beginning Of Your Exciting Adventure In São Miguel In The Azores🏝️🐳. Arriving On The Island Of São Miguel Is The First Step In The Journey That Awaits You. It Is Important That All Participants Are On The Island By 3:30 P.M. On November 19, 2023.
We Offer Two Convenient Meeting Points To Welcome You Warmly: 
📍The First Pick-Up Point Is João Paulo II Airport In São Miguel, Where Our Team Will Be Waiting For You Until 4pm With A Friendly Smile. Https://Maps.App.Goo.Gl/6RYiTvfJUWstG1QJ9
📍The Second Pick-Up Point Is Located In The Charming Town Of Ponta Delgada, And You Can Join Us There At 4:30 Pm. Https://Maps.App.Goo.Gl/Em1Wg7XQFBa3UdVg7
After Meeting At The Two Pick-Up Points, We'll Start Our Journey Together. Before Arriving At Our Lodge, We Will Make A Brief Stop At A Local Supermarket. This Will Provide The Perfect Opportunity For You To Purchase The Necessary Items For Dinner And The Small Welcome Party We Will Organize In The Evening At Our Lodge. This First Day Is A Time To Get To Know Your Fellow Travelers, Bond And Prepare For An Exciting Exploration Of The Island Of São Miguel Over The Next Few Days. The Warm Welcome From The Staff And The Friendly Atmosphere Of The Participants Will Make This A Truly Memorable Start To The Trip.
Day #2 (19th)
Day #3 (20th)
Day #4 (21st)
*People from Canary Islands will BOOK on this event page in order to join the Canarian group.
Please REMEMBER, if you are a  Student/Premium Member you will have:
💳 SPECIAL PRICE for LocalBird experiences all year long.
Accommodation on the trip will be in shared apartments. The apartments are equipped with:
Shared bedrooms
Bathrooms
Communal room of the apartment
Kitchen (Fully equipped and ready for use).
The apartments also have a common barbecue area and swimming pool, to be used to socialize during the  free time.
Don't forget to tag us and send us your photos and videos
Join our Whatsapp Community in order to not miss any experience